Financial Services
Singapore, like most advanced economies, have undergone tremendous demographic and behavioural changes. Today, we, as consumers, crave efficiency. In an age where the hyperconnected population can attain almost any goods and services with a few clicks of a button, the very speed and ease of attaining any good or service has become a major decision factor. For most, queueing and waiting at physical bank-tellers for basic bank services are outdated - it is no longer efficient enough. This new expectations has sent the financial world into a flurry of transformation and changes as banks expanded their services from their brick-and-mortar locations to the virtual space to enhance accessibility and efficiency.
With their customers' experience prime in mind, two banks, Bank A and Bank B, engaged Auguried to bring their services to where their digitally proficient customer base deem the most important - Online.
Both banks envisioned an enhancement of their retail banking operations by making two particular services online - application for new customer accounts and for new credit cards.
Account Opening
Bank A had the intention to target two particular types of prospective customers - those who were looking to open a single account and those who wanted to open a joint account. Meanwhile, Bank B wanted to digitalise their applications for various account types. Using our EDIFY Approach , our dedicated team at Auguried collaborated with the clients Bank A and Bank B, planning and developing the whole account opening flow to create a seamless, mobile solution, namely the following in sequence:
Choosing the Type of Account
Bank B Account Types Pages
Filling of the Application Form
A chief function that we have enabled in the application process is the integration of MyInfo into the sign-up process. By logging in using their Singpass, Singaporeans, Permanent Residents and Passholders can automatically have their personal particulars input into the application form. This hastens the amount of time required for the customer to fill up the form, allowing for a quicker application process. Bank A and Bank B can securely retrieve the customer's information from government agencies without having to undergo lengthy paper documentations and verification processes, saving time for both parties.


Onboarding Using MyInfo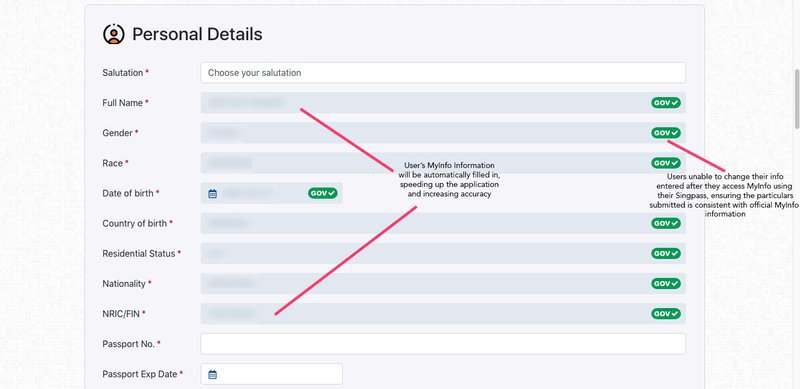 Customer's MyInfo information automatically filled in in Application Form



Submission of the Form
After inputting their information into the form, customers would be presented with a comprehensive summary to look over and ensure that the information they have provided is correct. After which, they are able to confirm their submission, completing their application.



Data Collection
Data submitted by the customer would be collected in the back end. The data can be exported in excel or in pdf form personalised to each customer. This data would be accessible by bank staff online. The automated organisation of data would reduce operational risks, and allow staff to more easily access the information required in the processing of each customer's application for account opening.
Backend collection of customer's cases
Credit Card Application
Similarly to the Account Opening services, both banks wished to improve their customer service by enabling customers to apply for their credit cards online. To enhance the way they serve customers, the Auguried team developed the following:
Credit Card Product Page Microsite
Customers may view the various credit cards offered by the banks, select and proceed to the application form.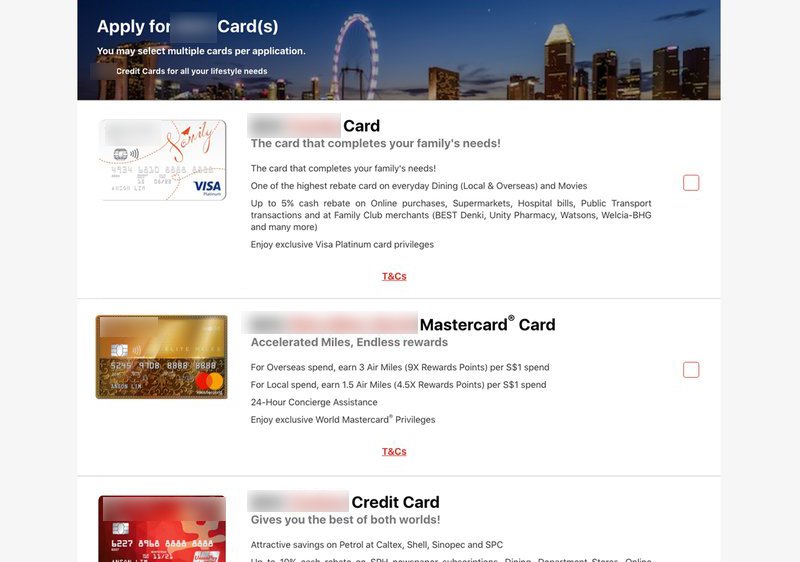 Bank A and Bank B Credit Product Page
Integration of MyInfo Data
This provides a simple, seamless, efficient application experience for the customer.
Credit Assessment Automation
After submission of their information, customers would receive their pre-credit analysis in a much shorter time than through application via a bank teller. This would yet again reduce the processing time, enabling the application process to become more efficient.
User Experience
Channel Specific Promotional Landing Pages
In addition to the above Digital Services our team developed, we also created landing pages for credit cards offered by the bank. When a potential customer clicks on a promotional banner online, they would be redirected to these landing pages showcasing the specific credit cards as advertised, where they may proceed to apply for them.
By digitalising these application processes, the unnecessarily long wait time at bank tellers is reduced to just a few minutes. Additionally, the now paperless, hassle-free experience with reduced processing time, improves the overall customer experience and reinforces the Go-Green initiative the banks are embarking on.
As Singapore accelerates to a more digitalised economy, it is increasingly necessary for banks to enable access to their services online in order to further engage the technology-savvy generation today and amplify their customer base.
At Auguried, we can help you modernise your banking operations to thrive in the fast-paced digital economy - and adapt to win.